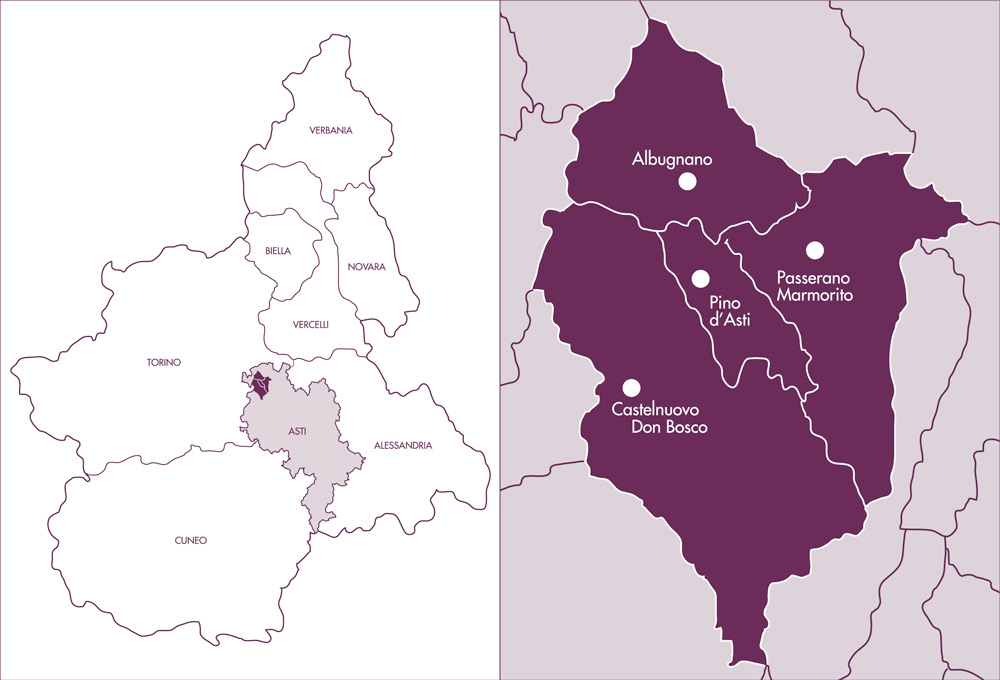 ALBUGNANO DOC
Woods, hills and soil science
The production zone for Albugnano DOC includes the communes of Albugnano, Pino d'Asti, Castelnuovo Don Bosco and Passerano Marmorito – a small area in the North-west corner of Monferrato, on the edge of the Province of Turin.
At over 400 metres of altitude, the hills in this area are higher than those in the northern part of the Asti province.
The terroir for Albugnano DOC sits on light-coloured, medium-textured marlstone from the Miocene (Langhian-Burdiglian) era, while tufaceous and sandy content alternate in the topsoil.
The mosaic of soil types isn't the only factor differentiating the area's wines; the hill sides are also key, and the most important are two: the first one, which extends to the edge of Castelnuovo Don Bosco, is the widest and mostly covered with vines; the second one, towards Berzano San Pietro, is more woody, with steeper slopes, and the vines occupy the areas with the best exposure.
The woods and altitude contribute to the cool climate, which is favourable to the Nebbiolo vine, which ripens earlier than other terroirs.
ALBUGNANO DOC
Altitude and rainfall
Altitude is the most important factor that differentiates wines: in Albugnano the vineyards grow at altitudes between 200 and 540 metres above sea level, which strongly influence the grapes' acidity and aromatic development.
The wines have different characteristics according to the position, exposure and altitude. Rainfall is the other key factor.
Albugnano is one of the villages with the highest and most frequent rainfall in the Asti province, according to the analysis of rainfall effects on the soil characteristics of the Barbera d'Asti conducted by the Piemonte Region administration.
Albugnano is also the coolest area in the province, with a lower average temperature that varies significantly at different altitudes.